Shriram Pistons & Rings Recruitment 2023: Shriram Piston and Rings Limited has taken out direct recruitment for ITI and Non-ITI Students, if you are eligible, then you can participate in this recruitment according to the information given below to participate in the recruitment.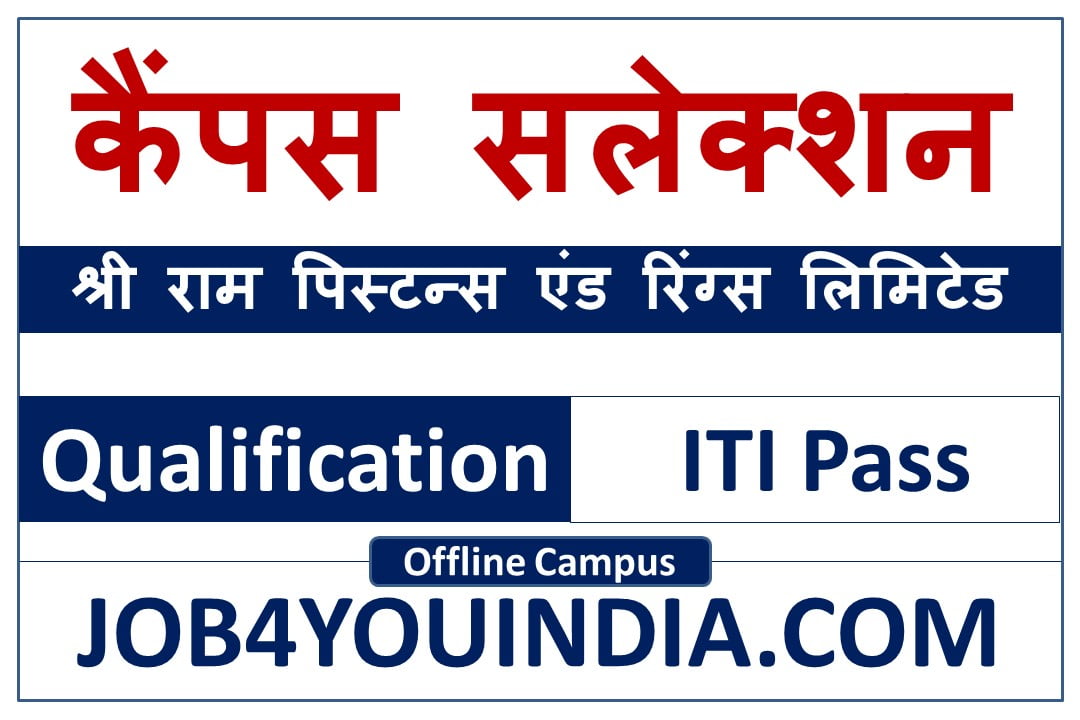 Shriram Pistons & Rings Ltd. Recruitment 2023
Company Name: Shriram Pistons & Rings Limited
Designation: ITI Trainee, Trainee
Job Location: Pathredi, Bhiwadi, District Alwar Rajasthan
Shriram Pistons & Rings Ltd. Recruitment 2023 Eligible Criteria
Qualification: 12th, ITI Passs
ITI Trade: – Tuner, Machinist, Foundary Man & MMV, Tool & Die
ITI Passing Years: 2018 to 2023 Pass Out.
Age Limit: 18 to 30 Years
Gander: Male and Female
Height Minimum: 5'3"
Weight Minimum: 50 KG
Physical Attribute: Eyesight 6/6 Minimum upto 6/9 With Glasses
Salary and Facility
Two Pairs of Uniform, One Pair of Safety Shoes, Bus Facility, One Time Tea & Snacks, Canteen on Subsidized Basis.
Documents Required
All Education Marksheet
Aadhar Card
Pan Card
Passport Size Photos
Off Campus Placement Venue and Date
Interview Date: 07 November 2023
Time: 10:00 AM
Campus Venue: राजकीय औद्योगिक प्रशिक्षण संस्थान, बदायूँ  आवँला रोड़, सलारपुर
Notification: Click Here
---
Expired
Interview Date: 21 October 2023
Time: 10:00 AM
Campus Venue: Govt. ITI Saifai Road, Near NH- 2, Etawah (UP.)
Notification: Click Here
---
Campus Venue: – Govt. ITI Balkeshwar, Agra (UP)
Date: – 10 October 2023
Time: 10:00 AM
Notification: – Click Here
---
Campus Venue: – राजकीय औद्योगिक प्रशिक्षण संस्थान, आमेर, जयपुर
Date: – 27 September 2023
Time: 10:00 AM
Notification: – Click Here
---
Campus Venue: – योगिराज ध्यानानन्द आईटीआई पूरेधूशाह, नियार, चोलापुर वाराणसी
Date: – 25 September 2023
Time: 10:00 AM
Notification: – Click Here
---
Campus Venue: – माधव आईटीआई कॉलेज सूरजनगर सागरताल चौराहा, ग्वालियर (मध्यप्रदेश)
Date: – 20 September 2023
Time: 10:00 AM
Notification: – Click Here
---
Campus Venue: – Govt. ITI Vrindavan, Mathura (UP)
Date: – 29 August 2023
Time: 10:00 AM
Notification: – Click Here
---
Campus Venue: – Govt. ITI Balkeshwar, Agra (UP)
Date: – 28 August 2023
Time: 10:00 AM
Online Registration: – Click Here
Notification: – Click Here
---
Expired 
Campus Venue: – योगिराज ध्यानानन्द आईटीआई पूरेधूशाह, नियार, चोलापुर वाराणसी
Date: – 18 August 2023
Time: 10:00 AM
Notification: – Click Here
---
Campus Venue: – ITL आईटीआई मुकेरी टोला,थावे, गोपालगंज
Date: – 15 June 2023
Time: 10:00 AM
Notification: – Click Here
---
Campus Venue: – मां मंगला प्राइवेट आईटीआई, घुँघरीटांड, नियर राजकीय पॉलिटेक्निक, गया (बिहार)
Date: – 25 April 2023
Notification: – Click Here
---
Campus Venue: – Deoria Pvt. ITI, Krishna Nagar, Deoria Khas, (UP)
Date: – 13 April 2023
Notification: – Click Here
---
Campus Venue: – बाबा योगेंद्र देव निजी आईटीआई, तारामंडल, विवेकपुरम, गोरखपुर
Date: – 12 April 2023
Notification: – Click Here
---
Campus Venue: – योगीराज ध्यानानन्द आईटीआई पूरेधूशाह, नियार, चोलापुर, वाराणसी
Date: – 23 March 2023
Notification: – Click Here
---
Venue: – Ideal Pvt ITI Industrial Area Ramnagar Patnawa Chandauli, UP
Date: – 01 March 2023
Notification: – Click Here
---
Venue: – शासकीय आईटीआई सिंगरौली
Date: – 27 February 2023
Notification: – Click Here
Registration: – Click Here
---
Venue:- Adarsh ITI, Bendi Karchana, Prayagaraj, Uttar Pradesh
Date:-  19 January 2023
Notification:- Click Here
---
Venue: Govt. ITI Khetri
Date: 16/12/2022
Notification: Click Here
Note: कैंपस परीक्षा का आयोजन फोन तथा ईमेल सूचना के आधार पर किया जा रहा है आकस्मिक कारणों से कैंपस परीक्षा स्थगित होने पर अभ्यार्थीयों को असुविधा हो सकती हैं।